Published Date
Mon, September 18, 2017
Because the importance of preventative public health measures remains high even if budgets are reduced, it is important that your content not only be high-quality, but also cost-effective and long lasting. The Smokefree.gov team has found a way to do that through the development of what we term "Flexible Assets" – content that is developed and formatted in such a way that it can easily be repurposed for multiple platforms with a longer lifespan than on our various social media sites, including websites, mobile applications, and even text message services.
The first step in creating a standardized process for the development of Flexible Assets was to find a format that worked well on as many of our platforms as possible. For Smokefree.gov, the most flexible format was a square image with accompanying text. The image size is 1024 x 1024, originally based on what performs well on Instagram. However, given our social media experience, we knew that this image size would also perform on other platforms. The square renders well on Instagram and Facebook and can be used on Twitter and Pinterest as well. We aim to keep the accompanying text under 100 characters so that the Flexible Asset can be used on any of our platforms without additional modifications. As the name implies, these Flexible Assets are featured prominently not only across social media, but also as sidebar images on the Smokefree.gov website to provide supplemental content to the user. In addition, we are in the process of incorporating Flexible Assets into our smartphone apps and text-message interventions.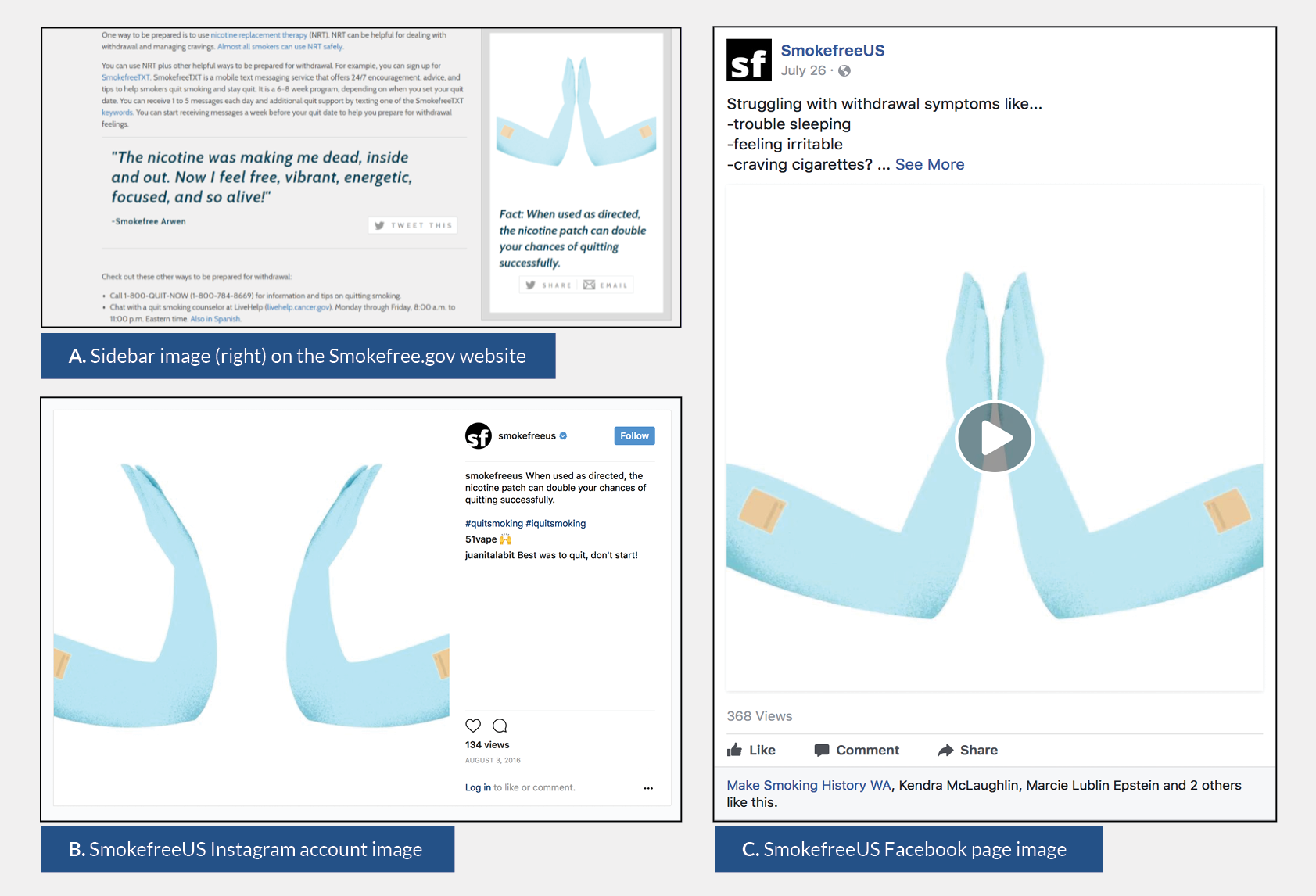 However, creating content that is used on the web and can also be incorporated into smartphone apps is a different beast than creating content just for social media; Twitter, for example, which has a half-life (the amount of time it takes for a post to get half of its total views and/or responses) of only about 30 minutes, doesn't necessarily need content to be as high-quality or robust as something that will live in an app or on a webpage for as long as a few years. Web or Smartphone application content needs to be of a certain quality, because one hopes that users are going to be interacting with it for longer periods of time, or coming back to it, and that means bringing in our team of professional designers, rather than relying on the social media team's expertise in image creation. Because bringing in designers increases the level of effort, the selection process for what content becomes a Flexible Asset takes into account reusability not only across platforms, but also over time. Thus, for most of our Flexible Assets, we stick to our key messaging for Smokefree.gov rather than timely promotions, and supplement with features of our core resources.
It took us several months and considerable design time to build up our library of Flexible Assets, but because of our frontloading (we currently have approximately 200 Flexible Asset images), we are now at our leisure to thoughtfully supplement as necessary. We have enough content to fully populate the sidebars of the website and disseminate two to three Flexible Assets per social media platform per week, which greatly reduces the workload of our social media team. When a situation arises in which we feel that a new Flexible Asset could be useful, such as a new campaign on social media, a specific set of messages in the text program, or new web content for which the existing assets are a stretch fit, we will work with our creative services team to build out new assets. As part of the ongoing care of our website, content is reviewed on a rolling yearly basis to ensure relevancy and accuracy.
This is just the beginning of what we hope to accomplish with our Flexible Assets. The Smokefree.gov social media team has also been creating short videos that meet the same formatting criteria, and thus are useable across multiple social platforms. Ultimately, we hope to integrate those videos into the sidebars of the Smokefree.gov websites, text messaging and mobile application platforms – so that these short videos can serve the same multipurpose and reusable function as our static Flexible Asset images.
What ways have you tried to get the most use out of your content without it feeling stale?